Sharing and Caring
---
Honoring our Veterans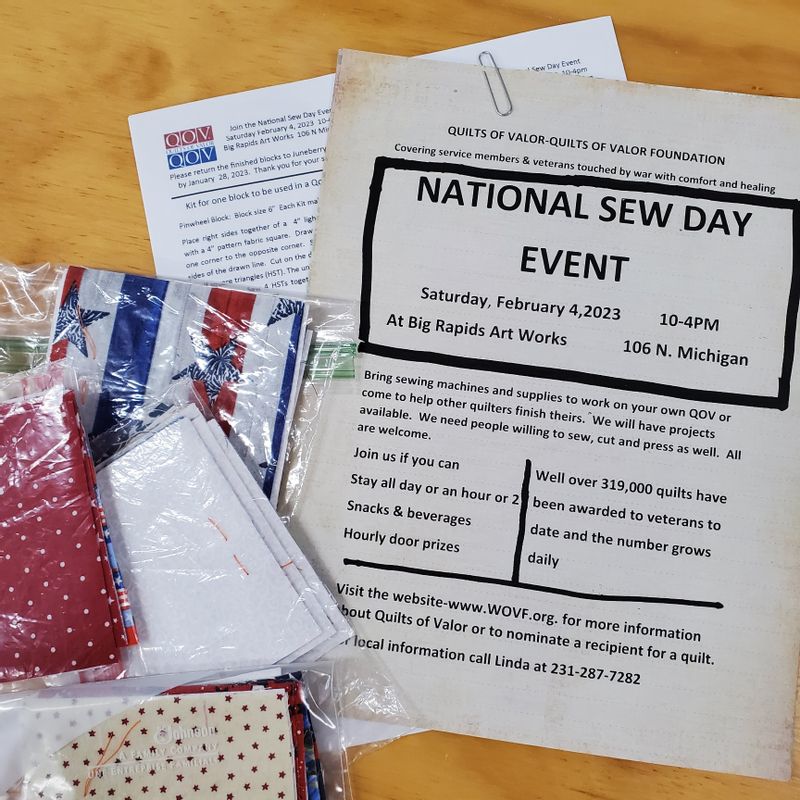 Our veterans served so we can have a country that is safe and free.
Quilts of Valor Foundation works with chapters around the USA to honor these men and women. The closest chapter to Evart is Old Jail Quilters of Big Rapids.
The Old Jail Quilters have been volunteering their time sewing quilts of healing since 2014.
Meeting the first Tuesday of every month at the Old Jail in Big Rapids.
Their mission is to try to get a quilt of valor to comfort anyone who's provided military service to our United States. We try to find local veterans and present them with a quilt that shows that we appreciate them for their service and their sacrifice.
Juneberry Cottage carries fabric for patriotic quilts
Since our opening, I've supported the QoV quilters. They bring so much joy to those who receive a quilt they have made.
Every 1st Saturday in February, the Old Jail Quilters participate in the National Sew Day for QoV. Juneberry Cottage has free kits to make blocks which can be sewn into a quilt at this sew day and if any extra are made, they will use them during their monthly sew day. The blocks are not hard and allow those who are unable to attend the monthly sew day contribute. The kits can be picked up at the store and returned here or taken to the National Sew Day. This year it will take place on February 4 at Art Works in Big Rapids.

Honoring our local heroes, One stitch at a time.
When a presentation is made, one thing that is almost always said is that they do not deserve a quilt. Yet they do deserve so much gratitude and honor for their service and a quilt is a small and lovely way to honor them.

Helping hands are always needed.
By attending the monthly sew day, working on blocks at home to have put in a quilt, or participating in the National Sew Day are all ways to help.
Not sure how to make a quilt block? There is help out there to learn. Juneberry Cottage, Crossroads Quilt Guild or the Old Jail Quilters will all give guidance.