Charitable Giving to help others in a time of need.
---
Flood Bucket Collection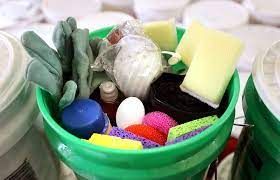 NALC Disaster Releif
Hurricanes, floods and other disasters are happening more frequently. When our neighbors around the world experience these unforeseen circumstances, you can make the road to recovery easier with Flood Cleanup Buckets. These buckets are full of essential home recovery supplies that are needed after a disaster strikes.
Donations for the buckets are being collected at Juneberry Cottage.
FLOOD BUCKETS/CLEANING SUPPLIES

Each five-gallon bucket with lid contains:
* Two (2) large trash bags
* Comet or scouring cleanser
* Pine Sol or liquid floor cleaner
* Scrub brush
* Dust Mask (N-95 recommended)
*Gloves (Lg recommended) Rubber, Latex, cloth work gloves etc

* Bleach
* Broom
* Rakes, shovels, hoes (for debris removal)
If you are able to contribute  items on the list, please bring them to Juneberry Cottage, 220 N Main Street, Evart MI 49631 during business hours.